Shelton College International has obtained the 4-year Edutrust certification awarded by Committee for Private Education consecutively for the third time.
13 February 2020 marked a new milestone for Shelton College International. We were awarded the 4 years EduTrust Certification by the Committee for Private Education consecutively for the third time.
The 4 years EduTrust Certification award is given to Private Education Institutes (PEIs) for sustaining excellent level of performance in managing and providing high quality education standards and welfare for their students. More details are available from the CPE website www.ssg.gov.sg.
The EduTrust Certification Scheme assesses a PEI's corporate governance and administration, quality management, academic and financial processes, protection and welfare of students through fee protection scheme, management of recruitment agents and provision of student support services.
The achievement of EduTrust Certification is a significant milestone for us as a quality education service provider. We will continue with this journey to improve in all areas to deliver high quality education services to all.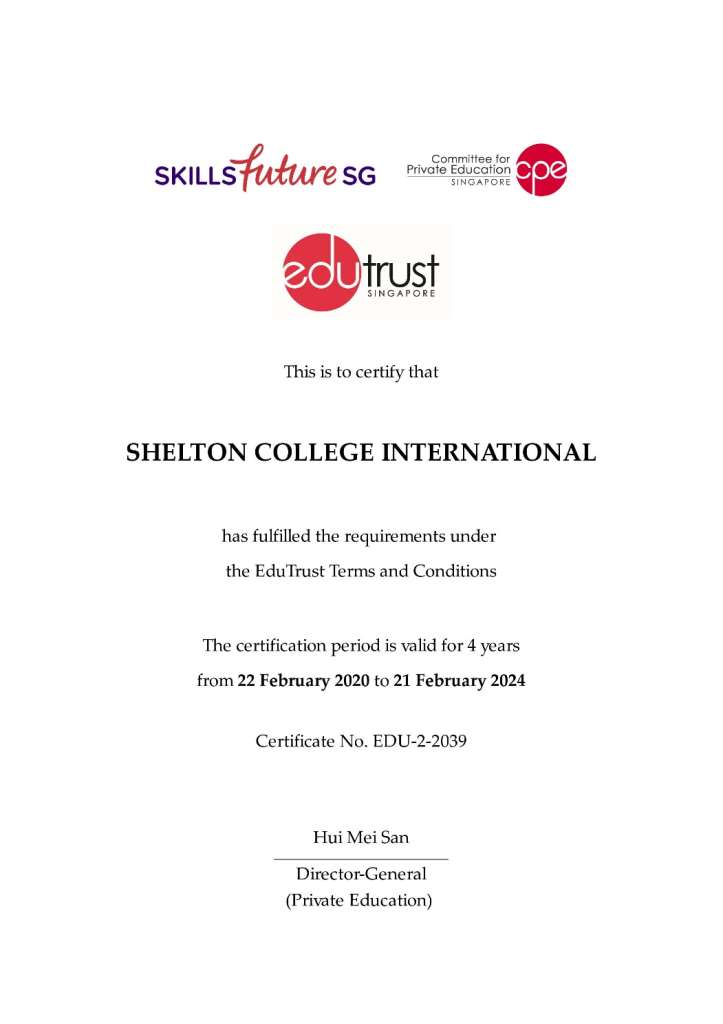 Edutrust Certification Letter
About Edutrust
The EduTrust Certification Scheme (EduTrust) is a quality assurance scheme aim to differentiate private schools that are able to consistently maintain a high standard of quality in education and improvement leading to positive education outcomes.
Who manage the Edutrust?
The Education Trust Certification is administered by the Committee for Private Education (CPE), an agency under the SkillsFuture Singapore with the aim to regulate, develop, and improve the quality of private education. The Committee for Private Education (CPE) was formerly known as Council for Private Education, as previously a
statutory board under the Ministry of Education (MOE) of Singapore.
Is it mandatory for all private educational institutions to obtain education trust certification?
The EduTrust certification is voluntary scheme, Private Educational Institutions (PEIs) that recruit international students must obtain EduTrust certification. This is one of the prerequisites for the Immigration & Checkpoint Authority (ICA) to issue student passes.
What are the different types of EduTrust Certification and the advantages of 4-year Edutrust accredited institutions over EduTrust Provisional?
Attain commendable level of performance in managing their institutions and providing an outstanding quality of education and welfare for their students.

A symbol of recognition for outstanding achievement.

Can recruit international students

No $5000 deposit required

High student pass approval rate

Sustain excellent level of performance in managing their institutions and providing high quality education standards and welfare for their students.

EduTrust Assessment every two years.

Collaboration with universities on undergraduate degree and post-graduate courses

Qualifications accredited by the Chinese Service Center for Scholarly Exchange(CSCSE).

Can recruit international students

A deposit of 5,000 SGD to be provided per student recruited; possible face-to-face interview required to issue student pass approval letters

Attain a minimum level of performance in key areas of administration and provision of educational services. Yearly EduTrust Assessment required.

Collaboration with universities not allowed

No degree courses allowed

No pathway and progression for students

Qualifications not accredited by CSCSE, China
N.B.
1. PEIs without EduTrust certification is not able to recruit international students.
2. PEIs are also not allowed to collaborate with universities to offer degree courses.
From the above, it is evident why students choose to study in a 4 Year EduTrust certified Private Education Institute.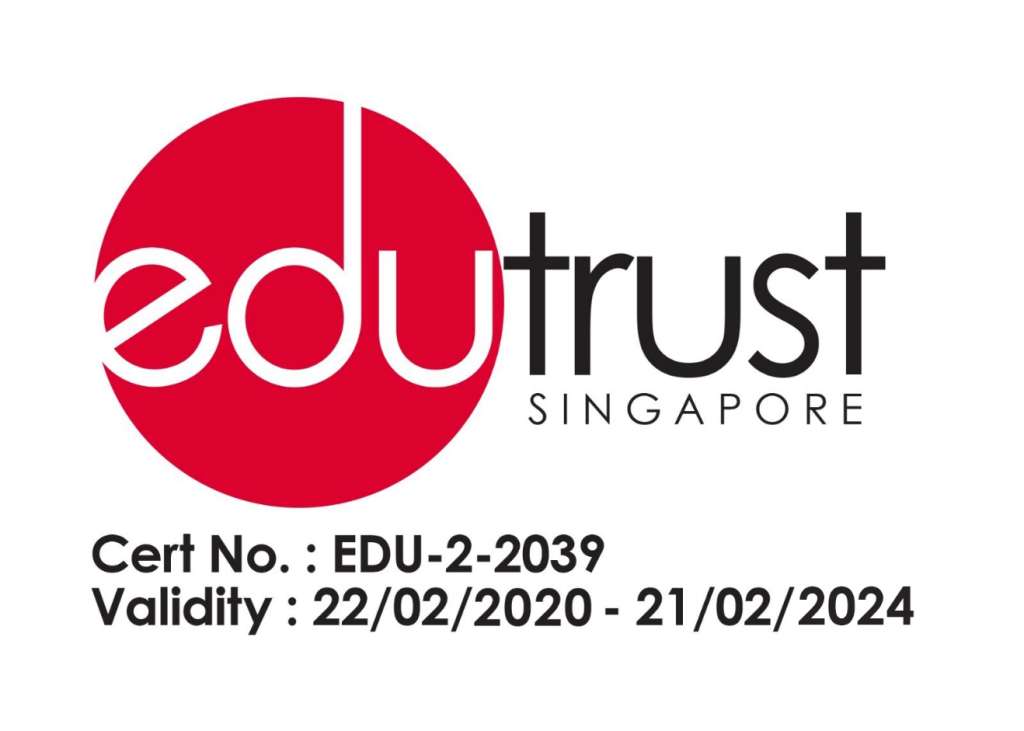 What kind of quality assurance does the Shelton College International provide students with?
Academic processes: Shelton maintains high standards and quality in the academic element of our institution. This encompasses proper handling of students, teachers, course development and reproduction materials and careful and thorough administration of examinations. We believe that a quality academic approach builds trusts in our partners and most importantly with our students, parents, stakeholders and potential students.
Student evaluation: Shelton uses the most appropriate evaluation methodology from recruiting of students to graduation. The purpose is to monitor and evaluate student feedback and progress, not only limited to the assessment method of the paper exam to achieve the desired outcome.
Faculty recruitment: Shelton has stringent selection and hiring criteria. We established a disciplined faculty team to achieve our educational goals.
Student welfare and support services: Shelton provides comprehensive support services to meet the needs of students so as to create a conducive environment for students to focus on their academic studies. We also provide medical insurance coverage, hospitalization and related medical treatment for students for the entire course duration.
Resources and facilities: Shelton has an independent campus, which provides students with classrooms equipped with air conditioning and wireless network. We are also equipped with various media equipment, library, computer rooms, photo studios, indoor and outdoor basketball courts, football fields, archery and other facilities. Shelton College International is able to manage resources, equipment, infrastructure and environment to support its educational goals and seek ways to improve our physical facilities and infrastructure for better students 'experience.
Fees Protection Scheme (FPS): Shelton ensures that each student is covered with an insurance plan by CPE approved insurance provider to protect tuition fees paid by students.
Shelton College International offers students courses ranging from foundation certificate to graduate diploma. We are a 4 years EduTrust Certified Private Education Institution in Singapore, and is an accredited institution of the Chinese Service Center for Scholarly Exchange (CSCSE).
The beautiful campus, lushed with greenery and open spaces is located at the heart of Singapore with well-equipped facilities and providing students with high-quality learning and comprehensive support services.
We welcome you to discover the nature of our school by
exploring what we offer and hope your journey with us is enlightening and enjoyable one.
For more information, please follow our public account.